The Australian actress who plays the Evil Stepmother looks gorgeous in a maxi dress, but she apparently wants to give her feet a rest.
Cate Blanchett
removed her shoes during the premiere of her new movie "
Cinderella
" at Berlin Film Festival on Friday, February 13. The Australian actress who plays the Evil Stepmother in the Disney live-action movie looked chic in a pixelated maxi dress for the premiere, but she apparently had a bit of issue with her towering heels.
Blanchett was photographed
slipping off her shoes
following red carpet session at the event. The actress who plays Lady Galadriel in "
The Hobbit: The Battle of the Five Armies
" looked relieved after taking them off and eventually was seen walking barefoot when leaving the stage.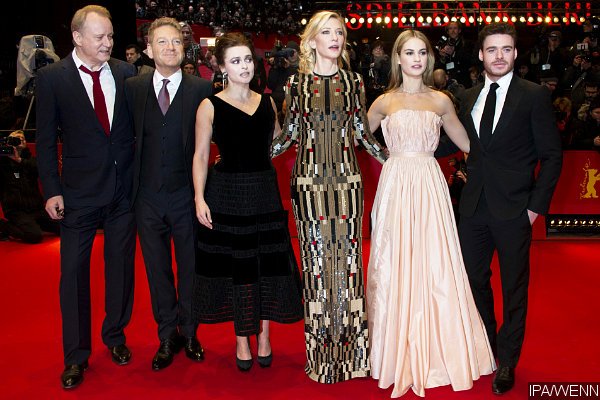 Helena Bonham Carter
who plays the Fairy Godmother and the Cinderella depicter
Lily James
were also present. The "Harry Potter" alum wore a simple black piece at the event, while James looked gorgeous in a custom Dior dress. She completed her look with custom Jimmy Choo Cinderella slippers and jewelry by De Beers. Director Kenneth Branagh and other cast members,
Richard Madden
and
Stellan Skarsgard
, looked dapper in dark suits.
"Cinderella", hitting theaters Stateside on March 13, tells the story of the young girl named Ella who lives with her stepmother and step-sisters. When they prevent her from attending a ball at the palace, Ella unexpectedly receives help from the Fairy Godmother.
People have been leaving comments online, saying that Cinderella's waist in the trailers or promotional photos looks "unreal." However, James' agent denied that the waist was digitally altered during post-production so that it looks smaller, telling
Buzzfeed
that she wore corset.
This waist is unreal! RT @Variety Watch new #Cinderella footage and interviews with stars http://t.co/pF690jLBTv pic.twitter.com/AvRwwICIIb

— Stacie Zane (@staciezane) January 4, 2015
@sophiemcshera @HayleyAtwell please support less CGI on tiny Cinderella waist in new film,really harmful 4 body image pic.twitter.com/LayN8llfRN

— Poppy (@PoppyLM) January 3, 2015