The production photos feature Joseph Gordon Levitt and Ken Watanabe, while the on-set pictures capture the helmer and lead actor Leonardo DiCaprio.
Warner Bros. Pictures has released four new photos from "
Inception
" consisting of two production images and two on-set pictures. One of the stills captures
Joseph Gordon-Levitt
in what looks like an upside down space. Meanwhile, the other production photo sees
Ken Watanabe
holding
Lukas Haas
with his left hand while he points a gun with his other hand.
The on-set pictures, in the meantime, feature Christopher Nolan. One of them has the helmer/writer/producer observing a tower construction which apparently is built for filming. He is additionally captured alongside lead actor
Leonardo DiCaprio
in what seems to be a rest room in the other new shot.
Official synopsis for "Inception" has not been unveiled, but it has been mentioned that DiCaprio plays Cobb, a CEO type of guy who "dives into people's dreams to extract information" by using injection. His team whose job is to create the dreams includes
Ellen Page
's Ariadne, Gordon-Levitt's Arthur and
Tom Hardy
's Eames.
Watanabe joins the cast as Saito who blackmails Cobb. The major character will additionally get trouble from his wife Mall, played by
Marion Cotillard
. This sci-fi action is plotted to be debuted in U.S. theaters on July 16.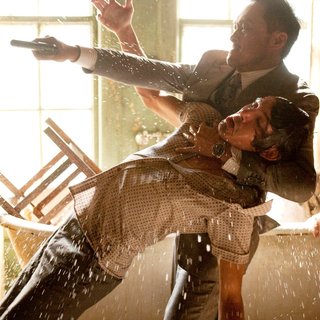 'Inception' on-set pictures: