About This Video
---

A clip/trailer of Burning Blue
Tags
:
Burning Blue
Type
: Movie Trailer
Views
: 621
This Movie Info
---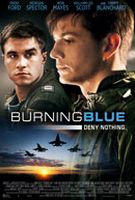 Burning Blue
Release Date :
June 06, 2014 Limited
Studio :
Lionsgate Films
Director :
D.M.W. Greer
Starring :
Trent Ford
, Morgan Spector, Tammy Blanchard, Rob Mayes
They have been trained to meet danger head-on, to execute vital strategic maneuvers while flying at breathtaking speeds. But after a series of fatal accidents, a close-knit squadron of male Navy pilots begins to splinter-and becomes the focus of a criminal investigation. As a government agent digs to uncover the cause of the accidents, two of the pilots engage in a secret, forbidden relationship. Their affair is exposed... and the squadron is engulfed by an incendiary scandal that will challenge each pilot's notions of friendship, love, honor and courage.