About This Video
---

This Movie Info
---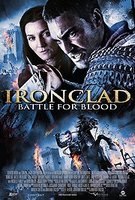 Ironclad: Battle for Blood
Release Date :
July 25, 2014 Limited
Studio :
XLrator Media
Director :
Jonathan English
Starring :
Michelle Fairley, Roxanne McKee, Tom Austen, Tom Rhys Harries
Steel yourself for another brutal battle, as one of the few survivors of the Great Siege of Rochester Castle fights to protect his family's estate from fierce Celtic raiders. With a new battleground and a new enemy, "Ironclad: Battle for Blood" delivers the same ferocious, adrenaline-filled action that defined "Ironclad". Tom Austen ("The Borgias") and Michelle Fairley ("Game of Thrones") star in this exciting new adventure from the director, writers and producers of the original "Ironclad".