About This Video
---

This Movie Info
---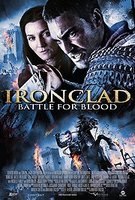 Ironclad: Battle for Blood
Release Date :
March 14, 2014 UK
Studio :
Warner Bros. Pictures
Director :
Jonathan English
Starring :
Michelle Fairley, Roxanne McKee, Tom Austen, Tom Rhys Harries
Travelling back to the dark, brutal past of 13-century England, "Ironclad: Battle for Blood" plunges us headlong into one of the most violent periods in English medieval history - a few good men fought against insurmountable odds to defend their country from bloodthirsty Celtic Tribes. "Ironclad: Battle for Blood" is the continuing story of honour and action and excitement. Blood Will Run.