About This Video
---

A clip/trailer of Attack on Titan
Tags
:
Attack on Titan
Type
: Movie Trailer
Views
: 526
This Movie Info
---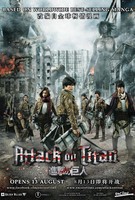 Attack on Titan
Release Date :
July 14, 2015 Limited
Studio :
FUNimation Films
Director :
Shinji Higuchi
Starring :
Haruma Miura, Kiko Mizuhara, Kanata Hongo, Satomi Ishihara
Mankind is under the terror of titans, a beast in which feast on human flesh. Eren Yeager, a young boy determined to make change when he himself could transform into one. He is humanity's last hope.