About This Video
---

This Movie Info
---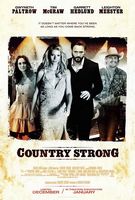 Soon after a rising young singer-songwriter (Hedlund) gets involved with a fallen, emotionally unstable country star (Paltrow), the pair embarks on a career resurrection tour helmed by her husband/manager (McGraw) and featuring a beauty-queen-turned-singer (Meester). Between concerts, romantic entanglements and old demons threaten to derail them all.
Comments
---

Nice to Gwyneth back in-form after a decade of ill-suites roles that did nothing to highlight her strenths. I loved her duet w/Huey Lewis and cover of "Bette Davis Eyes" (also from a movie soundtrack) which were widely overlooked due to the movie's overall lack of success. If this video/song and movie trailor are any indication, I stronly believe we'll hearing a lot more from musically.
posted by

RD

on Oct 16, 2010

WOW! Song was great and so was she! Who knew she could sing!!! I really want to see this movie, it looks good!
posted by

idk78

on Oct 14, 2010