About This Video
---

This Movie Info
---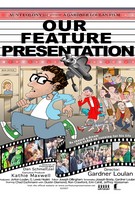 Our Feature Presentation
Release Date :
December 21, 2008 California
Studio :
Aunt Colony Productions
Director :
Gardner Loulan
Starring :
Erin Cahill, Brandon Alexander, Jessie Andersen, Carla Baker
Cody Weever wants to make a movie but his tycoon mother refuses to fund the production. When a rumor spreads in his wealthy hometown that the beautiful, no talent Hollywood heiress Jasmine Danell will be starring in the film, the town's people clamor to be associated with the project. Blinded by ambition, victim to his own ego, and distracted by the private vanities of the wealthy, Cody manages to cast Jasmine, but at great personal cost. Through humor, the film explores the great lengths people will go to attain fame and fortune.