About This Video
---
Behind the scene of The Blind Side
Tags
:
The Blind Side
Type
: Behind the Scene Video
Views
: 4216
This Movie Info
---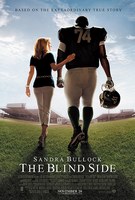 Sandra Bullock ("The Proposal"), Tim McGraw ("Friday Night Lights") and Oscar-winner Kathy Bates ("Misery," "Revolutionary Road") star in Alcon Entertainment and Warner Bros. Pictures' "The Blind Side," which depicts the remarkable true story of All-American football star Michael Oher.
A homeless African-American youngster from a broken home, Oher (Quinton Aaron) is taken in by the Touhys, a well-to-do white family who help him fulfill his potential on and off the football field. At the same time, Oher's presence in the Touhys' lives leads them to some insightful self-discoveries of their own.
Living in his new environment, the teen faces a completely different set of challenges to overcome. As a football player and student, Oher works hard and, with the help of his coaches and adopted family, becomes an All-American offensive left tackle.
Comments
---

OUTSTANDING!! Great castmates w/ Ms, Bullock & Mr Tim McGraw!! seen it 2x and cannot wait for release of DVD
posted by

jlwoodro

on Dec 30, 2009

My wife drug me to this movie but I must admit I loved it. Truely inspiring!
posted by

Chris

on Dec 07, 2009