About This Video
---
A clip/trailer of The Blind Side
Tags
:
The Blind Side
Type
: Movie Trailer
Views
: 6099
This Movie Info
---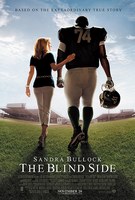 Sandra Bullock ("The Proposal"), Tim McGraw ("Friday Night Lights") and Oscar-winner Kathy Bates ("Misery," "Revolutionary Road") star in Alcon Entertainment and Warner Bros. Pictures' "The Blind Side," which depicts the remarkable true story of All-American football star Michael Oher.
A homeless African-American youngster from a broken home, Oher (Quinton Aaron) is taken in by the Touhys, a well-to-do white family who help him fulfill his potential on and off the football field. At the same time, Oher's presence in the Touhys' lives leads them to some insightful self-discoveries of their own.
Living in his new environment, the teen faces a completely different set of challenges to overcome. As a football player and student, Oher works hard and, with the help of his coaches and adopted family, becomes an All-American offensive left tackle.
Comments
---

Great Movie
posted by

Ron G

on Dec 13, 2010
This Movie was so much a inspiration for us! More for or son Mikael-Patrick where at 13 years old it`s already 6,5 and 340p. Even before the movie we use to call him Big Mike! been a giant for him been always a big challenge so when he did watch this movie he really understand what kind of person he can become. Where we leave or son don`t have the opportunity to see other people like him so this real story bring my son to be more focus at school and for the first year football I think he find his strength. God Bless Michael Oher for your success, hope or son have the same kind of blessing.
posted by

Nathatsha

on Nov 22, 2010