About This Video
---
A clip/trailer of Whip It!
Tags
:
Whip It!
Type
: Movie Trailer
Views
: 2392
This Movie Info
---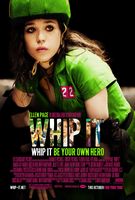 Drew Barrymore's directorial debut stars Ellen Page (Juno) as Bliss, a rebellious Texas teen who throws in her small-town beauty pageant crown for the rowdy world of roller-derby. Marcia Gay Harden (Mystic River, Pollock) plays Bliss's disapproving mother, while Drew Barrymore, Kristen Wiig (Saturday Night Live) and Juliette Lewis (Old School) play roller-derby stars. "Whip It" also stars Eve, Jimmy Fallon, Daniel Stern, Alia Shawkat, Ari Graynor, Andrew Wilson, Zoe Bell and singer-songwriter Landon Pigg.
Comments
---

Wow, that looks surprisingly interesting. I like the casting choice. However, I'm curious if Drew Barrymore can produce (or in this case direct) anything w/o putting herself in it as well.
posted by

Pal

on Jul 16, 2009
What an incredible dull sport. It makes me depressed just watching.
posted by

Barry White

on Jul 16, 2009