About This Video
---

Behind the scene of Whip It!
Tags
:
Whip It!
Type
: Behind the Scene Video
Views
: 620
This Movie Info
---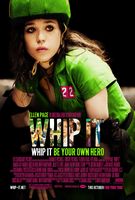 Drew Barrymore's directorial debut stars Ellen Page (Juno) as Bliss, a rebellious Texas teen who throws in her small-town beauty pageant crown for the rowdy world of roller-derby. Marcia Gay Harden (Mystic River, Pollock) plays Bliss's disapproving mother, while Drew Barrymore, Kristen Wiig (Saturday Night Live) and Juliette Lewis (Old School) play roller-derby stars. "Whip It" also stars Eve, Jimmy Fallon, Daniel Stern, Alia Shawkat, Ari Graynor, Andrew Wilson, Zoe Bell and singer-songwriter Landon Pigg.