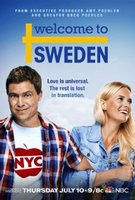 TV Info
---
Category
TV Series
Genre
Comedy
Starring :
Greg Poehler
, Josephine Bornebusch, Lena Olin, Patrick Duffy, Illeana Douglas

August 05, 2014 10:08:26
NBC has given a vote of confidence to freshman "
Welcome to Sweden
". The new sitcom starring
Greg Poehler
has been picked up for a 10-episode second season, the network confirms.
The comedy created by Greg based on his life has earlier scored a renewal from Swedish network TV4 on which it airs. The show is executive produced by Greg and his famous sister
Amy Poehler
. The "
Parks and Recreation
" star,
Will Ferrell
and
Gene Simmons
make guest-starring appearances on the rookie series.
...
April 10, 2014 02:04:28
NBC has unleashed the first promo for its summer comedy "
Welcome to Sweden
".
Amy Poehler
, who executive produces the show along with her brother
Greg Poehler
, makes an appearance in the video as herself.
Will Ferrell
is featured as an American guy who falls in love with a Swedish woman and learns the language to show how much he loves her.
Gene Simmons
is another A-lister making a cameo as one of Bruce Evans' (Greg) clients.
...