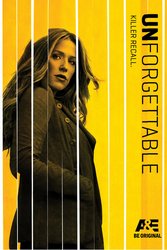 TV Info
---
Category
TV Series
Genre
Drama
Starring :
Poppy Montgomery
, Dallas Roberts,
Dylan Walsh
, Jane Curtin, Tawny Cypress, James Hiroyuki Liao, Michael Gaston, James Laio, Kevin Rankin, Daya Vaidaya

October 11, 2014 09:10:19
It's the end of the run for "
Unforgettable
". CBS has dropped an ax to the crime drama after three seasons, just a day after renewing its two summer series "
Under the Dome
" and "
Extant
" and canceling "
Reckless
".
"Unforgettable" had been through this process before. It was canceled after its freshman season although it was gaining 12.1 million viewers and a 2.5/7 among adults 18-49. While Sony TV shopped it around to other networks, CBS began showing interest in bringing it back as a summer series.
...
June 30, 2012 12:06:41
CBS apparently has a change of mind regarding its 2012 freshman "
Unforgettable
". After canceling the show which just aired for one-full season, the network will revive the series for a targeted 2013 summer return. The second season will consist of 13 episodes.
"Hey #Unforgettable fans. It's official, the series will return to #CBS for summer 2013," the Eye took to Twitter on Friday, June 29 to announce the show's revival. Lifetime and TNT were previously reported to be interested in reviving the police procedural series.
...