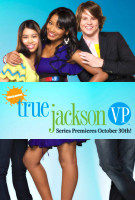 TV Info
---
Category
TV Series
Genre
Comedy
Starring :
Keke Palmer
, Ashley Argota, Matt Shively, Danielle Bisutti

November 14, 2009 10:11:22
Not only performing, pop sensation
Justin Bieber
will also have a lot of speaking lines during his guest starring appearance on "
True Jackson, VP
". After
a sneak peek
of him in the studio singing his hit "One Time" was released a couple of days ago, there are two more that highlight on his first encounter with True and her friends.
In the first clip, Bieber finishes singing and True and co. barge in to the studio pretending to be pizza guys. After finding out that the box is empty, Beiber calls the security to extract them out. The second clip is the continuation of the first one with True explaining that she just wants a favor from the singer. Turns out Beiber also has a knack for arts.
...
October 30, 2009 01:10:54
Justin Bieber
, appearing as himself, will guest star on Nickelodeon's "
True Jackson, VP
" on Saturday, November 14 at 8.30/7.30c. The singer saves the day when he agrees to help True in her charity work which almost goes bland due to lack of act.
True is determined to save her school's design department from budget cuts and decides to hold a fund raising concert. As she searches for a big performer to headline the concert, her best friend Lulu offers little help as she is more focused on trying to find alone time with her crush Mikey J.
...