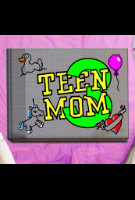 TV Info
---
Category
Reality TV

Genre
Reality

Starring :
Mackenzie Douthit, Katie Yeager, Alexandria Sekella, Briana Dejesus


December 09, 2013 02:12:54
MTV has apparently pulled the plug on "
Teen Mom 3
". Stars of the reality series revealed the show's cancellation with their tweets, as Katie Yeager wrote, "I'm grateful for this experience. Molli [her daughter] and I are ready to move on from this and live a normal life. Thanks for all the love and support."
Briana DeJesus tweeted, "Teen Mom 3 was one of the best experiences I ever had! I will never forget it!" She added, "Time to move on from MTV and do bigger and better things & no I don't mean become a porn star lol," possibly taking a jab at
Farrah Abraham
who starred in an adult movie after "
Teen Mom
" was axed.
...
November 02, 2012 03:11:45
The cast of "
Teen Mom 3
" has finally been revealed. Four latest "
16 and Pregnant
" alums, Mackenzie Douthit, Katie Yeager, Alexandria Sekella and Briana Dejesus , are all set to star in the upcoming third edition of the MTV hit franchise.
The girls revealed the casting scoop on Halloween through a series of Twitter exchanges. Mackenzie tweeted, "Here we are," along with a photo of the four gals. Briana also wrote, "Teen mom 3 love my girls!" before posting a shout-out to her gang, "Can't wait tooooseeeee @katiebyeager @douthitkenzie@officialsekella & the babies this weekend it's been wayyyyy tooooo lonnnnng"
...