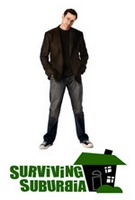 TV Info
---
Category
TV Series
Genre
Comedy
Seasons
1
Production Co.
Media Rights Capital
Distributor
ABC
Official Site
click here

The Story
---
In the family-centered tradition of Roseanne and Home Improvement, "Surviving Suburbia" opens the curtain to follow Saget (How I Met Your Mother, Full House) and Stevenson (Men in Trees, Dead Like Me) as Steve and Anne Patterson, a seemingly normal couple who have been married for 20 years, have two children and a cookie cutter house in the idyllic suburbs. But Steve maintains a rather cynical point of view on family, friends, neighbors, society -- pretty much everyone and everything -- as he tries to survive suburban life.
"Surviving Suburbia" takes a contemporary look at family life and the reasons one might have to question the system -- How does exchanging keys with a neighbor for emergencies result in house sitting? Why do kids' classroom projects inevitably become the parents' responsibility? When did we start needing mediators to handle disagreements between adults? -- all of which goes to prove that it's never just another sunny day in the suburbs.
Also starring in the half-hour comedy series are Jared Kuznitz (Otis, Dance of the Dead) and G Hannelius (Interrogation) as the Patterson kids. Jere Burns (Good Morning Miami, Something So Right) and Dan Cortese (What I Like About You) are recurring guest stars.
The Stills
---