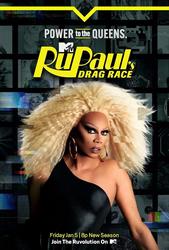 TV Info
---
Category
Reality TV
Genre
Reality
Starring :
RuPaul
, Michelle Visage, Santino Rice

May 01, 2012 11:05:14
The winner of "
RuPaul's Drag Race
" season 4 has been announced on Monday, April 30. After interviewing the final three finalists in a reunion show, RuPaul declared Sharon Needles as America's Next Drag Superstar.
With a crown newly put on her head, the Pittsburgh native walked the runway and told the crowd, "Happy Halloween, everybody!" as she channeled her spooky drag persona in a green dress. She went on saying, "This crown is for anyone who ever got picked on as a kid."
...
April 26, 2011 11:04:46
From thirteen, the contestants of "
RuPaul's Drag Race
" is wilted down to just one. The winner of third season is none other than Raja who has been a stand-out since the beginning of the season. She beats Alexis Mateo and Manila Luzon in the Monday, April 25 finale.
Raja is the leader of the "Heathers", one of the two large groups that split this season's contestants. The make-up artist had won four out of twelve challenges and pulled out the final challenge nicely against Manila. The three finalists participated in the filming of the music video for
RuPaul
's song "Champion" and the final two were head to head in the lip-synch challenge.
...