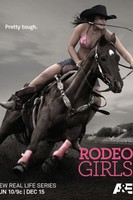 TV Info
---
Category
TV Series

Genre
Reality-TV

Starring :
Darcy La Pier, Barb West, Megan Etcheberry, Jessica Holmberg, Anthony Lucia, Ty Murphy


The six-episode series follows a group of veterans and rookies fueled by their motivation to win as they travel around the country with their horses and colorful attitudes. The ladies of the rodeo work hard, ride fast and play rough. Their tumultuous relationships, fierce competition and plenty of cowboys leave plenty of drama to go around.
These ladies are out to prove that rodeo competitions are more than just cowboy boots, chaps and spurs. With tough-as-nails attitudes, these barrel racers face stiff competition and high stakes as they compete for the fastest time and the chance to win thousands.