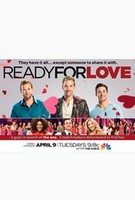 TV Info
---
Category
Reality TV
Genre
Reality, Romance
Starring :
Giuliana Rancic
, Bill Rancic, Ben Patton

April 20, 2013 01:04:19
NBC has dropped new reality show "
Ready for Love
" from its line-up. The show from executive producer
Eva Longoria
has aired only two episodes, and it's still unknown when or whether the remaining episodes will air.
To fill the vacant slot, "
Grimm
" will air the remaining episodes of the season on Tuesdays at 10 P.M. starting April 30. The fantasy procedural series will be replaced by "Dateline" on Fridays at 9 P.M. starting April 26.
...