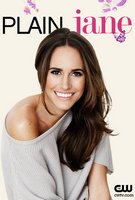 TV Info
---
Category
Reality TV

Genre
Reality

Starring :
Louise Roe


July 30, 2010 01:07:40
One more "
Plain Jane
" will be transformed in the second week of the new reality series. In "No Risk Jane", Louise Roe helps a USC student to get out of her comfort zone by sending her to skydive. In the synopsis, it says that Roe is helping this "Jane" to open up and gain the courage to tell her crush how she really feels.
Picked up as a summer filler, "Plain Jane" is about Roe giving average girls a makeover not only on the outside but inside as well. Digital Spy asked the dating expert whether every episode will have a happy ending and Roe said, "You'll have to watch and find out! There is lots of drama, I really can't say any more than that, but it's pretty dramatic. When I'm watching it, there are moments when I am welling up or nervous for them. It's pretty intense."
...
May 29, 2010 01:05:59
A longer sneak peek to The CW's new reality series "
Plain Jane
" is provided. The show is basically a makeover of a girl who usually avoids make up and stylish clothes. Through coaching, she is turned to one attractive chick in limited amount of time.
Each of the eight episodes will feature a new "Jane" searching for the change of a lifetime. With the help of British fashion expert Louise Roe, each Plain Jane will receive a head-to-toe style transformation, including new wardrobe and confidence-building exercises. Once the transformation is complete, the formerly Plain Jane will surprise her unsuspecting crush with the new look and reveal her true feelings to him.
...