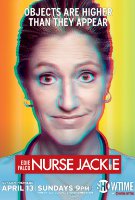 TV Info
---
Category
TV Series
Genre
Comedy, Drama
Starring :
Edie Falco
, Merritt Wever,
Peter Facinelli
, Anna Deavere Smith,
Paul Schulze
, Dominic Fumusa, Ruby Jerins, Mackenzie Aladjem, Stephen Wallem,
Eve Best
,
Morris Chestnut
, Betty Gilpin, Adam Ferrara,
Haaz Sleiman
,
Mark Feuerstein

Three-time Emmy Award winner Edie Falco is coming to a New York City hospital for SHOWTIME's new half-hour single camera dark comedy series "Nurse Jackie". Falco stars as the title character Jackie Peyton, a strong-willed and brilliant - but very flawed - emergency room nurse in a complicated New York City hospital. A lapsed Catholic with an occasional weakness for Vicodin and Adderall to get her through the days, Jackie keeps the hospital balanced with her own kind of justice. Every day is a high wire act of juggling patients, doctors, fellow nurses and her own indiscretions.
Season seven picks up at the exact moment that season six left off: Jackie Peyton (Edie Falco) steps out of her mug shot and into a world of unrelenting consequences. Arrested and abandoned by those closest to her, Jackie's nursing license is revoked. This season, we watch Jackie fight to reclaim her sobriety, her job, her people, her children and her identity.