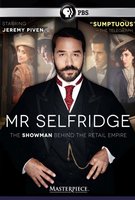 TV Info
---
Category
TV Series
Genre
Drama
Starring :
Jeremy Piven
,
Frances O'Connor
, Aisling Loftus, Zoe Tapper, Tom Goodman-Hill, Amanda Abbington,
Sacha Dhawan
, Lottie Tolhurst, Mimi Ndiweni, Emma Hamilton, Zoe Richards

At the unfashionable end of Oxford Street in 1909 London, an American retail tycoon arrives to jettison fusty British tradition and open the biggest and finest department store the world has ever seen: Selfridges. Three-time Emmy winner Jeremy Piven (in his first television appearance since his iconic role as Hollywood agent Ari Gold in Entourage) stars as Harry Gordon Selfridge, the flamboyant entrepreneur and showman seeking to provide London's shoppers with the ultimate merchandise and the ultimate thrill.
Emmy Award-winning writer Andrew Davies (Pride and Prejudice, Bleak House) conjures the opulence and excitement of Selfridges and the story of its founder, a man of exuberant, outsized, and potentially dangerous, appetite. Behind Selfridges' lavish shop windows, gleaming counters, and majestic doors, appetite intersects with ambition and desire not just for Harry, but for his staff, his family, and the various women drawn to the store and the man. Zoe Tapper (Stage Beauty) is showgirl and temptress Ellen Love; Frances O'Connor (Madame Bovary) as is Harry's loyal wife, Rose; Gregory Fitoussi (Spiral) is the mercurial window designer extraordinaire, Henri Leclair; and Aisling Loftus (Case Histories) is the spunky shop girl Agnes Towler. Mr Selfridge airs Sundays, March 31 through May 19, 2013 at 9pm ET (check local listings) on PBS' MASTERPIECE Classic.