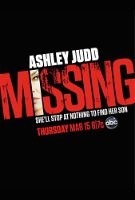 March 05, 2012 03:03:57
Less than two weeks from the premiere of "
Missing
", ABC has debuted an extended sneak peek of the new show. It highlights
Ashley Judd
's Becca Winstone who uses her martial art skill when an unknown man with a gun sneaks into her son's abandoned dorm room.
Becca is a former CIA agent who learns that her son, Michael Winstone, disappears while studying abroad. Using every means necessary to get her son back, she travels to Europe to track him down. Amazing locations and thrilling twists abound as it's revealed just how far one mother will go to protect her family.
...
February 21, 2011 04:02:30
Actress
Ashley Judd
is set for a return to TV after 20 years if negotiations for a new thriller series come to fruition. The "Heat" star is slated to play a former CIA agent who travels to Europe to find her lost son on a new ABC pilot called "
Missing
".
The project, which was initially titled "Safe" and "Hall of Mirrors", was slated to air for this summer season but since production has been delayed, it now eyes Fall premiere, September at the earliest. Production is scheduled to begin late next month in Rome, Vienna and Prague.
...