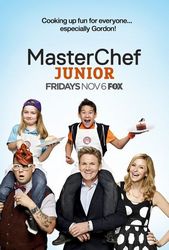 TV Info
---
Category
TV Series
Genre
Reality-TV
Starring :
Gordon Ramsay
, Graham Elliot, Joe Bastianich

December 20, 2013 02:12:09
"
MasterChef Junior
" will return for a sophomore run. FOX announced on Thursday, December 19 that it renewed the reality cooking competition series for a second season following its solid first season.
" 'MasterChef Junior' is one of the few shows on television that the entire family can truly enjoy together," said FOX Chairman Kevin Reilly when announcing the renewal. "I can't wait to see what Gordon, Joe, Graham and the next round of rambunctious, ridiculously talented junior chefs cook up in season 2."
...
November 09, 2013 12:11:58
The inaugural season of the U.S. version of "
MasterChef Junior
" wrapped up on Friday night, November 8. Alexander Weiss and Dara Yu were battling it out to be the first-ever winner of the cooking competition, but maintained their sweet and kind gestures to each other despite the intense battle.
For their final challenge, both young cooks were tasked to prepare a "perfectly composed" three-course meal in 90 minutes. While preparing their meal, Dara couldn't find an ingredient, but Alexander came to the rescue by sharing his with her. He also showed some support when Dara felt light-headed with about 20 minutes left to go, giving her a reassuring pat on the back.
...