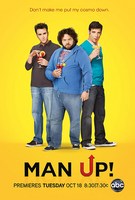 TV Info
---
Category
TV Series
Genre
Comedy
Starring :
Christopher Moynihan,
Dan Fogler
, Mather Zickel,
Teri Polo
, Amanda Detmer, Henry Simmons

Three modern men try to get in touch with their inner tough guys and redefine what it means to be a "real man" in this funny and relatable comedy. Will's grandfather fought in WWII. Will's father fought in Vietnam. Will plays Call of Duty on his PS3 and drinks non-dairy hazelnut creamer. Will (Mather Zickel), his evolved, sensitive nature is why his awesome wife, Theresa (Teri Polo), married him. But Will and his friends find themselves wondering -- in a world of Axe ads and manscaping.