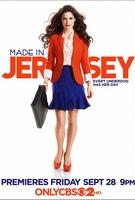 October 11, 2012 08:10:54
While NBC and FOX have given full-season orders to some of their freshmen, CBS makes the first cancellation of the fall 2012 TV season. The Eye decides to pull "
Made in Jersey
" from its Friday timeslot after airing only two episodes of the newbie.
With the legal drama being scrapped from the schedule, CBS makes some adjustments by moving "
CSI: NY
" to 9 P.M. Meanwhile, repeats of "
NCIS: Naval Criminal Investigative Service
" and "
Hawaii Five-0
" will fill the 8 P.M. slot until "
Undercover Boss
" returns on November 2.
...