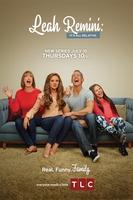 TV Info
---
Category
Reality TV
Genre
Reality
Starring :
Leah Remini

June 13, 2014 10:06:46
TLC has announced a premiere date for a new unscripted series starring
Leah Remini
. Titled "
Leah Remini: It's All Relative
", the show will debut Thursday, July 10 at 10/9c and the network has shared a look at it via a promo video.
The trailer has a lot of cheerful moments, including when the former "
Dancing with the Stars
" contestant throws a party for her family and friends and when her daughter Sofia pulls a prank on her grandmother.
...