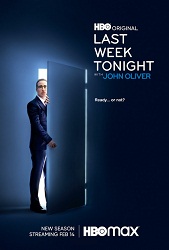 TV Info
---
Category
TV Series

Genre
Comedy

Starring :
John Oliver


April 28, 2014 02:04:46
John Oliver launched his HBO talk show by taking on a hot issue that emerged over the weekend. On the first episode of "
Last Week Tonight with John Oliver
" which aired Sunday, April 27, he mocked Donald Sterling who landed in hot water after caught on audio tape
making racist remarks
.
"It turned out to be a rough week for unrepentant racists and recording devices," he said. After showing a clip of news reporting on the controversy, he quipped, "Wow that is genuinely shocking: An 80-year-old man knows about Instagram." He added about the owner of the Los Angeles Clippers, "He's like a walking 'Before' photo!"
...
February 13, 2014 08:02:18
John Oliver's new HBO show has got a premiere date and a name. The weekly comedy series is titled "
Last Week Tonight with John Oliver
" and will debut Sunday, April 27 at 11 P.M. ET/PT.
The half-hour show will take a satirical look at the week in news, politics and current events. Executive produced by Oliver, Tim Carvell, James Taylor and Jon Thoday, it has been ordered for 24 episodes in its first year. "It will be me making fun of things," Oliver said of the show back in January.
...