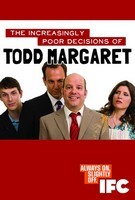 TV Info
---
Next Show
Eps 3.01:
TBA 2015
Category
TV Series
Genre
Comedy
Seasons
3
Production Co.
IFC and RDF Television
Distributor
IFC
Official Site
click here

The Story
---
The Increasingly Poor Decisions of Todd Margaret follows the awkward misadventures of an American office temp and convenient liar named Todd Margaret (David Cross). Margaret bluffs his way into a senior sales position heading up the London office for the new energy drink Thunder Muscle.
Cross' out-of-control farce reaches epic proportions when his character's gaffes and misfortunes wreak havoc on the city of London. His antics are often fueled by Dave, played by Blake Harrison (The Inbetweeners), his mysteriously devious and sometimes useless assistant. Complicating matters is Todd's misplaced attempts to win the affection of Alice, played by Sharon Horgan (Pulling), his uninterested UK love interest. The series also features guest stars Will Arnett (Arrested Development, Running Wilde) as Todd's hard-ass, foul-mouthed boss, and Amber Tamblyn (Joan of Arcadia, The Sisterhood of the Traveling Pants) as Todd's American "girlfriend." Janeane Garofalo (24, Reality Bites) and Russ Tamblyn (West Side Story, Peyton Place) make special appearances.
The show's opening theme song "Life is Sweet" and incidental music throughout the series was written and recorded by Johnny Marr (The Smiths, Modest Mouse, The Cribs).
"The cool thing about Todd Margaret is that, while a straight ahead comedy show, it tells a story that has a beginning and an end. Every episode starts the next morning after the previous episode so that the sense of inescapable impending doom is heightened exponentially with each subsequent show," said David Cross. "There's no escape."
The Stills
---