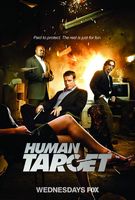 March 11, 2010 02:03:43
The next episode of "
Human Target
" will be the pivotal point of the series' first season finale. In "Baptiste", Chance's nemesis is introduced and he would be the one to deal with in the final showdown. Lennie James from "Jericho" is filling in the role.
Chance's past comes into focus when he recruits FBI Agent Emma Barnes to help him stop his former partner from assassinating a visiting foreign dignitary. Meanwhile, Guerrero tests out a familiar face as a new recruit to the team. "Baptiste" airs on March 17.
...