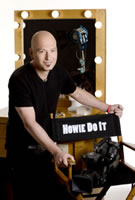 TV Info
---
Category
Reality TV

Genre
Reality, Comedy

Director :
Shelagh O'Brien

Starring :
Howie Mandel, Angelica Lisk


December 19, 2008 10:12:07
In January, NBC will present a brand new reality show called "
Howie Do It
" which is hosted by "Deal or No Deal" Howie Mandel. The idea of the one-hour show is to play pranks on unsuspecting people and Howie will go on disguise as Larry before revealing himself to the 'victims'.
To introduce the show to the public, the network has released a promo preview and the opening scene. Through the promo, it is found out how Howie does his show, including standing up as the world's worst waiter, and sending a singing telegram delivery boy to a funeral. The sneak peeks to these pranks that Howie play are included in the opening scene clip.
...