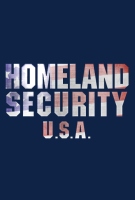 TV Info
---
Category
Reality TV
Genre
Reality
Seasons
1
Production Co.
Nate and Lil Production
Distributor
ABC
Official Site
click here

Cast and Crew
---
No cast and crew available
The Story
---
Every day the men and women of the Department of Homeland Security patrol more than 100,000 miles of America's borders. This territory includes airports, seaports, land borders, international mail centers, the open seas, mountains, deserts and even cyberspace. Now viewers will get an unprecedented look at the work of these men and women while they use the newest technology to safeguard our country and enforce our laws, in "Homeland Security USA."
Comprised of 13 hour-long episodes shot entirely on location throughout the United States, "Homeland Security USA" is based on a popular Australian series now in its fifth season. Produced by Oscar and Emmy-winner Arnold Shapiro ("Scared Straight," "Big Brother"), the series takes cameras into situations never before seen on television, with each episode covering eight or more locations on the "front lines" where the officers and agents work each day.
They have a job that is dangerous, difficult and always unpredictable. These aren't heroes. They're average men and women working against an epic landscape. The Department's missions include everything from vetting adoption papers and checking visitors' passports to intercepting undocumented immigrants, drugs and other contraband, and stopping potential terrorists trying to cross our borders. What viewers will see is powerful, dramatic, unforgettable and emotional, with unexpected moments of humor.
The Stills
---