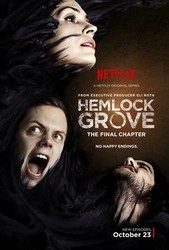 TV Info
---
Category
TV Series
Genre
Drama, Horror, Sci-Fi, Thriller
Starring :
Famke Janssen
, Penelope Mitchell, Freya Tingley, Bill Skarsgard, Landon Liboiron, Dougray Scott

June 20, 2013 11:06:59
Supernatural creatures in "
Hemlock Grove
" will continue haunting Netflix's subscribers for a second season. The streaming media has ordered 10 new episodes of the horror series, shorter than its 13-episode freshman run.
"The worldwide fan response to Hemlock Grove was phenomenal," says executive producer
Eli Roth
. "Netflix members loved the potent combination of sexy monsters, mystery, and the dark family soap opera that ended with a huge twist, leaving audiences worldwide totally shocked."
...