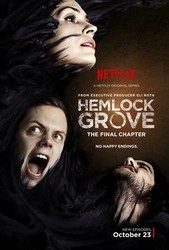 TV Info
---
Category
TV Series
Genre
Drama, Horror, Sci-Fi, Thriller
Starring :
Famke Janssen
, Penelope Mitchell, Freya Tingley, Bill Skarsgard, Landon Liboiron, Dougray Scott, Camille De Pazzis

September 03, 2014 01:09:42
"
Hemlock Grove
" is coming to an end. Netflix has ordered a third season which will also be the final season of the horror series executive produced by
Eli Roth
. The 10-episode season 3 is scheduled to premiere sometime in 2015.
"We are so grateful to the fans of 'Hemlock Grove', who have championed the series so intensely over two seasons," says Roth. "We are looking forward to taking the last and final season into some dark and unexpected places, and to giving viewers the killer finale you'd come to expect from 'Hemlock Grove'."
...
June 20, 2013 11:06:59
Supernatural creatures in "
Hemlock Grove
" will continue haunting Netflix's subscribers for a second season. The streaming media has ordered 10 new episodes of the horror series, shorter than its 13-episode freshman run.
"The worldwide fan response to Hemlock Grove was phenomenal," says executive producer
Eli Roth
. "Netflix members loved the potent combination of sexy monsters, mystery, and the dark family soap opera that ended with a huge twist, leaving audiences worldwide totally shocked."
...