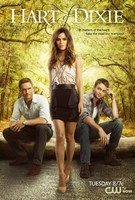 March 14, 2015 12:03:07
Leila Gerstein, the creator of drama-comedy series "
Hart of Dixie
", has hinted that the show might be canceled by The CW after four seasons. The hints appeared on Gerstein's latest tweets.
"The final three episodes of #HartofDixie begin tonight. Buckle up, I think you will enjoy the ride. Xo," so read one of her tweets. "No one out there loves #HOD more than me," Gerstein added. "I would have gone 17 years! But I assure you, we prepared for this... And the finale will be tremendously satisfying to all."
...
April 03, 2012 02:04:45
The CW's "
Hart of Dixie
" is expecting a major boost rating from the cameo of
Scotty McCreery
. The winner of "
American Idol
" season 10 will perform in the April 23 episode of the teen drama, serenading
Scott Porter
's George and
Rachel Bilson
's Zoe in a scene.
According to TV Guide, which debuted McCreery's promotional photo for the show, George skips town with Zoe and they end up at a bar and are serenaded by McCreery. "George finds out some secrets [like Lemon's affair] and calls Zoe out of the blue to get out of Dodge," Porter told TV Guide. "They end up having a magical evening. It's a glimpse into what they could be, but it's bittersweet because they know circumstances prevent it from being more."
...