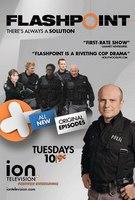 TV Info
---
Category
TV Series
Genre
Drama, Action, Thriller
Starring :
Hugh Dillon
,
Enrico Colantoni
,
Amy Jo Johnson
,
David Paetkau
, Cle Bennett, Michael Cram,
Mark Taylor
, Sergio Di Zio, Ruth Marshall

December 15, 2008 03:12:47
The new season of "
Flashpoint
" will return on screen on January 9 at 9/8c through CBS. The promo of the second season has been made available, showing the thrill that the Strategic Response Unit (SRU) has to face in a situation like hostage and kidnapping.
Since the first season did not air the whole 13 episodes, the remaining four will serve as the first few episodes of the new season. It thus will begin with the chapter called "Eagle Two" where the team is going on duty after a bomb goes off during their routine VIP protection shift.
...
September 13, 2008 01:09:40
CBS show "
Flashpoint
" is nearing its season wrap and a preview of the finale has been given. The drama cop series will have an episode called "Planets Aligned" rolled on Thursday, September 18.
This time the Strategic Response Unit will rescue a girl who is kidnapped inside a booby-trapped house. Using their tactics to get inside the house, they discover a shocking fact when one of the kidnappers is actually a teen who went missing several years earlier.
...