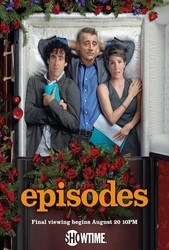 TV Info
---
Category
TV Series
Genre
Comedy
Starring :
Matt LeBlanc
, Stephen Mangan,
Tamsin Greig
, John Pankow, Kathleen Rose Perkins, Mircea Monroe, Richard Griffiths

November 16, 2010 03:11:24
The first lengthy trailer of Showtime's new series "
Episodes
" has been released to reveal the awkwardness that comes with casting
Matt LeBlanc
. The former "Friends" actor stars as himself in the hilarious new comedy series about remaking a comedy series.
When husband and wife writing team Sean and Beverly set out to reproduce their British TV hit for an American network, all of their worst fears come true as Hollywood lives up to its reputation for absurdity. Not only does the network cast Matt LeBlanc in the starring role, but Matt takes the lead in deviously twisting their beloved series into a terrible cliche, while testing the couple's marriage with diversions and temptations.
...
January 13, 2010 04:01:16
In some kind of twisted story,
Matt LeBlanc
is auditioning for a part to play Matt LeBlanc in new Showtime series "
Episodes
". The process of getting the role is captured in the first sneak peek to the comedy which may be looking at a premiere in Fall.
LeBlanc plays himself and his agent tells him to do the formality of attending the audition of a new series which will focus on him. He walks into the waiting room only to find several actors dressing like him and practicing the line "How you doin'?", a catchphrase which became his "Friends" character's trademark. In the end the casting directors say he is not the best they have auditioned.
...