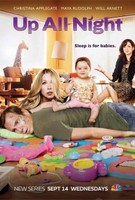 TV Info
---
Episode Premiere
November 02, 2011

Distributor
NBC

Genre
Comedy

Show Period
2011 - 2013

Production Company
Broadway Video Television, Universal Media Studios


Cast and Crew
---
Director
James Griffiths
Screenwriter
Erica Rivinoja
Main Cast
Additional Cast
Synopsis
---
When Chris discovers that his "lifetime" subscription to Sports Illustrated expires in 2032, he fears that the end date is a bad omen. Could he really only have 21 more years left to live? Moments later, Chris skypes with Angie and Dean, Reagan's highly-educated parents. They're planning on visiting LA for a book party in honor of Angie. Reagan's clearly annoyed; around her super fabulous parents she feels like an angsty teenager.
At the Ava Show, word gets out that Dale "the microphone guy" has died. Ava stumbles through a touching elegy; it's clear she has no idea who Dale was. When Ava refers to him as "Mike," the crew groans. Later, Reagan tells Chris about Dale's death. The morbid news makes Chris recall his own fear of dying in 2032. After a long day at work, Reagan returns home to find an annoying surprise: her parents are sitting in her living room, ready to spend quality time with their daughter!
Angie and Dean immediately irritate Reagan. Angie insists on preparing an Indian feast before urging her daughter to name Amy's genitals. The idea is to give Amy a sense of ownership over her own body. Later, Reagan complains about Angie to Chris. Baby Amy groans and it sounds exactly like Reagan's "my mom is irritating" groan. Reagan realizes she's teaching Amy to have mother/daughter issues. This leaves Reagan feeling that she must repair her relationship with Angie. She must break the cycle. She decides to go to Angie's book party.
At the Ava Show, the crew finds ways to fight back against their clueless boss. They shoot her out of focus and make sure her hair looks like a rat's nest. At Angie's book party, Angie brags about doing a phenomenal job raising Reagan. In fact, it's the focus of her entire book. Reagan tries to be a good sport, even as Angie talks about the night Reagan lost her virginity. Things go from bad to worse when Angie abandons Reagan to hob knob with the assorted guests.
Back at the house, Dean and Chris hang out. Chris shares his fear of dying with Dean. To Chris' surprise, Dean too fears death, and he deals with his fear by drinking! Back at the book party, Angie announces that her next book will be all about Amy. Reagan snaps: there's no way she's letting Angie pretend that she's an ideal grandmother! Reagan gives her mom a piece of her mind. Meanwhile, Ava assigns Missy the task of finding out additional information on Dale.
Angie talks to a tearful Reagan. They both apologize for how things went at the book party. Angie tells Reagan she wants to be a better mother, she just needs a little guidance. Late that night, Amy's cries wake the entire house. To Reagan's surprise, Angie consoles baby Amy. The next day, Ava presents a moving video tribute to Dale inspired by his employment paperwork. Hey, she tried.