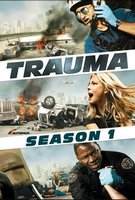 TV Info
---
Episode Premiere
April 19, 2010

Distributor
NBC

Genre
Drama

Show Period
2009 - 2010

Production Company
Universal Media Studios, Film 44


Cast and Crew
---
Director
Colin Bucksey
Screenwriter
Dario Scardapane
Main Cast
Additional Cast
Synopsis
---
In a small bookstore, Glenn recounts Rabbit's weirdest call. Back when Rabbit and Nancy were working together, there was a shootout in an Italian restaurant. It looked like something straight out of a mafia movie. One man was still alive and Nancy and Rabbit successfully got him to the hospital. However, just as in any good mafia movie, the hired hitman finished his kill and came in shooting right when Nancy and Rabbit were transferring the victim inside. Rabbit said he didn't mind the bullets flying at him, but it bothered him that the guy was a "save" before the hitman arrived.
Back at the trauma center, Glenn is handed a large piece of luggage with a baby inside. The baby needs immediate medical attention and while Glenn drives, Nancy and Tyler do their very best to stabilize the baby -- and it works. They save her. Meanwhile Rabbit asks Marisa for relationship advice. He wants to have a "normal" relationship with Nancy because he doesn't have the best relationship record. Marisa advises him to make Nancy dinner.
Back in the hospital, Tyler and Nancy are happy they saved the baby. Tyler tells Boone that his father is in town and Boone thinks Tyler should come out to him. Later, Glenn and Nancy talk about the baby and Glenn wants to know, what was Nancy's weirdest call? Nancy caves and decides to tell him, but only if he promises to keep it off the record. Nancy's weirdest call turns out to be Rabbit, when he was tearing up a broken down apartment after the big helicopter crash. Rabbit freaked out and punched Nancy's partner at the time, Kino. Nancy can't believe the madman who was in that apartment is now her boyfriend.
While Marisa and Rabbit are transferring a possible spinal cord injury victim to the hospital, Rabbit announces he's got his dinner for Nancy all planned out. At the hospital, Rabbit looks for Nancy, but gets a call and has to leave before finding her. Tyler and Boone get back from a bloody scene and Glenn wants to know Tyler's weirdest call since he's worked in so many different cities.
Tyler's weirdest call: he was working in a small town back in Louisiana, before Katrina. He and his partner, Bo, got a call to go down to the swamp, where they found a man face-down in the water. His partner, Bo, declares the man dead, but Tyler suspected the man might be alive. No one else wanted to hear it and Tyler was directed to take the man to the morgue. At the morgue the guy came back to life, scaring the wits out of Tyler -- and that's Tyler's weirdest call. Boone can't believe Tyler thought a live guy was dead and Tyler tells Glenn that he'll owe him royalties if the story gets published.
Back at Nancy's place, Rabbit cooks an extravagant dinner. However, Nancy's back at the hospital taking care of baby Jane Doe, and Rabbit can't get ahold of her. After trying to contact her many times, Rabbit finally gives up and leaves her place. Later that night, Nancy comes home and sees the nice place settings, wine and food on the stove. She tries to call Rabbit, but he doesn't answer his phone.
Tyler and Boone meet up with Tyler's dad and after Boone leaves, Tyler prepares to come out to his father. However, his father has important news: he is in San Francisco to get a second opinion on a lymphoma diagnosis. Tyler decides not to tell his father he's gay. The next day, Boone tells Tyler he's sorry about his dad, and tries to make Tyler feel better about it. Tyler doesn't want to ruin his father's idea of him if he's dying.
When Marisa asks Rabbit how the dinner with Nancy went, he doesn't want to talk about it. Glenn stops by and asks Marisa for her weirdest call story: after she got back from her first tour in Baghdad, she was living in the Mission and came home to her husband in bed with another woman. The woman ended up falling down the stairs and Marisa had to give her CPR to save her.
Nancy talks to Rabbit about dinner and tells him that it was really sweet of him. However, she doesn't want to tell Rabbit where she was or what she was doing (taking care of the baby) because she fears it will open a whole can of worms that she doesn't want to deal with right now. Rabbit wants Nancy to trust him and she thinks it's time for her to start working on some of her issues.
On their way to a call, Marisa tells Rabbit about her husband, Jerry, who cheated on her a bunch of times, and how she went out to fight in the war in order to deal with it. She tells Rabbit that "normal" isn't what it's cracked up to be sometimes. Meanwhile, Tyler tells Boone that he still doesn't know if he's going to come out to his dad.
Glenn talks to Diana about his book and she wants to know why he hasn't asked her about her weirdest call. Even though Diana's isn't a paramedic, she tells Glenn her most "memorable" patient. It was a young kid shot almost 14 times and the medic who brought him in? Glenn. Glenn remembers that call and the two share a cute moment together.
Nancy is back at the hospital, taking care of baby Jane Doe again. Social services tells Nancy that the baby is not a puppy and there are 10 families waiting to adopt. She doesn't have to worry about baby Jane Doe ending up in foster care. Tyler and his father wait for the results of his second test and Tyler finds out that his mother doesn't know why his father is in San Francisco. Turns out, Tyler's father does have lymphoma and the doctor recommends chemotherapy. There is good news though: they caught it early enough that the treatment should be successful. Tyler takes his opportunity and tells his father he's gay -- but his father says has always known.
Glenn finally gets Boone to tell him his "weirdest call," and Boone tells him his creepiest story: it was day when the fog was so thick, it had completely filled the house that Boone and his partner were called to. While they were attending an injured man who appeared to have been strangled, something in the fog touched Boone's leg. Once they got the man outside, Boone told the police he believed the victim had been strangled by someone. Just then, the man's daughter came running out with a huge snake. Neither Glenn nor Tyler believe this story.
Nancy goes back to the hospital to check in on baby Jane and sees her with a new family. Later that night at his book reading, Glenn says that baby Jane was his weirdest call because of how much the little orphan affected Nancy. He never expected that someone so tough could be taken down by something so small. Rabbit and Nancy listen to Glenn's story and Nancy gets mad at Glenn for telling it. Rabbit asks Nancy to talk to him about her feelings, like a regular person would. But Nancy doesn't feel like a normal person and doesn't think she ever will. Maybe they've both missed the opportunity to be normal people. Nancy runs off, and Rabbit follows closely behind her.