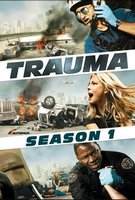 TV Info
---
Episode Premiere
March 15, 2010

Distributor
NBC

Genre
Drama

Show Period
2009 - 2010

Production Company
Universal Media Studios, Film 44


Cast and Crew
---
Director
Jeffrey Reiner
Screenwriter
Y. Shireen Razack
Main Cast
Synopsis
---
Rabbit and Nancy spend some quality time with each other in the morning before work. Nancy desperately tries to convince Rabbit that he may benefit by talking to a shrink instead of dealing with his problems by sleeping with her. She also reminds him that being on suspension is not a vacation. Meanwhile, there's a celebration at the office because Glenn helped deliver his first baby. And everyone misses Rabbit--but Nancy is still keeps her relationship with him a secret.
Robert, on his way home from a job he just quit, hits a deer with his car and is severely injured. Marisa and her new partner, Andy, come to the scene and things don't look good. One thing's for sure, Andy is not Rabbit--and they are not able to save Robert's life. This affects Andy, and makes Marisa worried about Rabbit, who usually shows no emotion at the fatalities they face every day.
Rabbit agrees to go to therapy and during his session the therapist runs down the list of examples of Rabbit's insubordination. Rabbit feels that the FBI agent deserved blood smeared on his face, but he is hesitant to talk about the helicopter crash. However, he promises his therapist that he is ready to make a change.
Glenn learns that Diana's trauma rotation is up and she is going up to oncology. This is disappointing to Glenn. Tyler scolds Boone for messing up his routine in the back of the ambulance to avoid bad juju. Glenn and Nancy come to the aid of a young girl, Sam, who is suffering from an anaphylactic shock due to a bee sting. Sam's father, Jeff, starts to hyperventilate and have chest pains. Following protocol, Glenn gives the man nitroglycerin to help his myocardial infarction--or heart attack. But this doesn't help and Jim flat-lines in the ambulance.
Back at the hospital, Glenn doesn't understand what he did wrong. Nancy explains that protocol isn't always right and that Glenn is going to have to learn how to trust his instincts and not always go by the book. Nancy assures him that he still has a lot to learn--and next time he'll learn from this mistake. They've all been there--they've all killed someone. Meanwhile, Sam is recovering from her bee sting and gets the bad news about her father.
Rabbit comes to the station to talk to Captain Basra and is upset to find out that the therapist doesn't think Rabbit is okay to come back to work. There's nothing Basra can do--Rabbit's suspended and has to figure his stuff out. Marisa finds Andy doing a pre- flight check and is surprised because Rabbit never does that kind of stuff. Marisa is more than happy to help Andy with the flight check. However, later on, Marisa talks to Rabbit about Andy and Rabbit warns her not to get attached too soon. Andy's way too cookie-cutter for her.
Tyler and Boone are en route to bring an injured Hispanic man to the hospital, while they argue over lunch. Suddenly the man jumps out of the ambulance and gets hit by a cab--and isn't breathing. At the hospital Nancy still tries to console Glenn, and she tells Tyler about what happened. Tyler is convinced that Glenn has now "cursed" them all and says it won't go away until Glenn makes a save today.
Marisa and Andy work on a man who is having trouble with his heart, claiming it could be due to the cocaine he snorted. Marisa tells Andy that she's not too good at the heart stuff, but Andy lets her practice on the patient--something Rabbit would never let her do. Rabbit tries to convince Dr. Joe to let him come back to work and that he doesn't need a therapist. At the end of the day, Rabbit gets the job done, but Dr. Joe is worried that's just not enough.
Diana consoles Sam, the young girl who has just lost her father, and makes a connection with her. Later, Diana tells Dr. Joe that she's not going to oncology; she believes that she makes a difference here, and wants to stay in the trauma unit. Dr. Joe welcomes her to hell.
At a car accident site, Tyler continues to heckle Glenn, telling him he needs to make a save today so the rest of the team doesn't suffer from the "probie curse." Glenn then tries to help the injured man, but he can't and Nancy calls Tyler to do Glenn's job. Meanwhile, a lonely and emotional Rabbit waits for Nancy at her apartment.
Marisa and Andy get called to Treasure Island for a possible stroke victim, but Andy thinks they should refuel first, and Marisa says not to worry about it, they'll make it there in time. The stroke victim is taken into the helicopter, which is now running out of fuel--however, Marisa knows her chopper and everything is going to be fine. Marisa's adrenaline is pumping, but Andy is not feeling her excitement and thinks that she is just as crazy as Rabbit. Back at Nancy's apartment Rabbit struggles to fix her closet door--taking out his aggression by destroying it.
In the trauma unit, Nancy checks on Glenn who is still shaken up from the morning's events. Tyler and Boone's ambulance gets a flat tire and Tyler blames the bad luck on Glenn again (thankfully Glenn isn't there to hear). However, the patient in the ambulance is crashing and more things are going wrong. Meanwhile, Nancy and Glenn deal with a domestic call where a man has been stabbed by his wife in the stomach; the man's status worsens but Glenn is able to save him, and just when that happens, the woman in Tyler and Boone's ambulance stabilizes. Tyler knows it has to be because Glenn got a save.
Marisa calls Rabbit and yells at him for ruining her and that he needs to get it together. Rabbit, in no mood, hangs up the phone. Tyler congratulates Glenn on his save and tells him that he has been hard on Glenn because he had a probie kill back in Boston when he first started, and that curse lasted a long time.
Nancy comes home to a distraught Rabbit and a broken closet. She realizes that Rabbit screws up everything in his life, but now it's his decision to pull himself out of the dark hole he's in, because Nancy's not going to be dragged down with him. When given the choice to be in or out, Rabbit takes his keys and leaves her.
Down at the bar, Glenn and Diana meet for a drink--and she tells him some tips about the girls around the bar. However, Glenn's more interested in Diana and he kisses her. In another part of the city, Rabbit visits his therapist and finally asks for the help he needs.