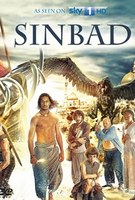 TV Info
---
Episode Premiere
August 03, 2013

Distributor
Syfy

Genre
Adventure, Drama

Show Period
2013 - 2013

Production Company
Impossible Pictures


Cast and Crew
---
Director
Colin Teague
Screenwriter
Jack Lothian, James Dormer
Main Cast
Elliot Knight
Naveen Andrews as Lord Akbari
Dimitri Leonidas
Marama Corlett
Elliot Cowan
Estella Daniels
Orla Brady
Synopsis
---
Sinbad wants to see a magical stone that shows your future so he can prepare for the journey ahead that Kuji foretold. Riff, son of Azdi, head of the Order of the Stone, is also desperate to see the Stone. He tells the gang that he can get them into the maze with the key stolen from his father. Azdi catches them in the maze and is shocked to see Sinbad who he saw in a vision standing over his dying body with a bloody sword.
He banishes Riff and sentences Sinbad to death, but Riff persuades Azdi to let him give Sinbad the poison. Sinbad collapses, but wakes to see Riff with attractive female bounty hunter Tiger. She has been sent by Taryn to capture Sinbad and bribed Riff not to kill Sinbad.
Riff convinces Azdi that Tiger is after him and persuades him to hide in the labyrinth, promising to defend him.
Tiger locks a deadly collar on Sinbad that is activated when Sinbad moves too far from her, but Sinbad refuses to be taken to her client, Taryn. Instead, he rushes to the labyrinth, forcing Tiger to follow since Taryn wants him alive. He saves Tiger from a deadly trap, then finds Azdi and Riff. Azdi warns Riff he's not ready to see into the stone and, frustrated, Riff draws his sword and lashes out, fatally wounding his father. Sinbad disarms Riff and Azdi looks up to see Sinbad standing over his dying body with a sword as in his vision. Sinbad smashes the Stone, leaving Riff broken.
Since Sinbad saved Tiger's life she won't take him to Taryn, instead accepting his invite to come onboard. Sinbad tells Cook that when he looked into the stone there were many futures, but the one that drew him was a vision of Jamil in a strange land. Cook tells him that the land he saw is the Land of the Dead and Sinbad decides to head there.