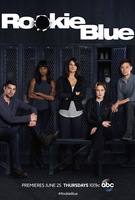 TV Info
---
Episode Premiere
July 22, 2010

Distributor
ABC

Genre
Drama

Show Period
2010 - now

Production Company
E1 Entertainment, Thump, Inc.


Cast and Crew
---
Director
Alex Chapple
Screenwriter
Semi Chellas
Main Cast
Additional Cast
Aidan Devine
Pascale Hutton
Fiona Highet
Ari Cohen
Steven Yaffee
Synopsis
---
POLICE LOG: A team of high-end B&E thieves have been hitting homes during holiday weekends. Suspects are quick, efficient and organized. During this long working weekend, officers are advised to take these words of Staff Sergeant Boyko to heart: "Serve. Protect. And grill when you're retired." Detailed report follows:
Andy wakes up in bed next to Luke Callaghan. She seems to be suffering from rookie remorse, as she quickly grabs her clothes and sneaks away. When Callaghan confronts Andy at the station, she's visibly anxious. The fact that Sam Swarek overhears their conversation only makes things worse. In fact, Andy is so unhinged that she forgets to load her gun before heading out on shift. That could make it tough to shoot the bad guys.
Detective Jess Erico (Pascale Hutton) briefs the squad on the rise in high-end robberies that take place on long weekends. The B&E's are the work of one organized crew. Andy and Sam respond to a call from a woman whose door was forced open by a male party. Andy gives chase to a suspect fleeing the scene but stops when she sees Sam being attacked by a guard dog. The suspect escapes and the cop-chomping canine eventually heels.
Andy and Traci are told to stay with the shaken B&E victim until her husband comes home. The daycare calls to tell Traci they're closing early. Andy says she'll fly solo until Traci can find someone to watch her son and she'll keep mum about her friend playing hooky. But Andy's a little nervous about being in the home alone when the lady of the house says her son from a previous marriage is in jail for drugs. Make that he was in jail. Right now he's downstairs with a loaded gun, which is more than we can say for our favorite rookie cop.
When the man/jerk of the house comes home, he runs into his recently-paroled stepson. The kid pulls a gun on step-daddy dearest which forces Andy to draw her gun on him. But like we said, there's only one gun in the house that's loaded and Andy's just realizing that now.
With Andy not answering his calls, Sam gets hold of Traci who fesses up that she's not at the house. Sam and Gail race to the scene where the stepfather is adding fuel to fire by berating the kid with the gun. Andy's only move is to try to calm the situation with words. She empathizes with the boy by speaking of how she was abandoned by her mom. This works and the kid drops the gun. Then the stepfather drop kicks the kid in the gut. Fortunately, Sam is there to take him down.
Traci's secret is revealed when she pulls up to the scene with her son in the backseat of her police cruiser. That's the least of her problems, as she fears she'll get fired now. Andy's not making things easier, as she's ticked at Traci for leaving her alone. Back at the station, Andy admits that the hostage situation developed because she forgot to load her gun. As for Traci, Andy leaves her to deal with Boyko on her own. This leads to a lecture from Sam, who says you back up your partner no matter what.
Dov regales Chris with tales of his wild night with a couple of flight attendants. Chris, meanwhile, is nervous about a visit from his longtime love, Denise, who's looking for a commitment. With a possible proposal on his mind, Chris impresses Detective Erico (Dov calls her Sergeant Sexy) when he realizes the B&E thieves seem to be targeting weddings. So, Chris and Dov go undercover at the reception house of a father of a bride. Wonder if they have to get a gift.
While Erico and Shaw wait outside in a surveillance van, Dov and Chris chat about Diaz's Denise situation. Chris realizes that Dov is lying about his night of passion with the flight attendants. And Dov soon realizes that his best buddy has only ever been with one woman. Too bad this private conversation becomes very public, as Chris has had his police radio on the entire time. There's no time for embarrassment though, as the B&E crew storm into the house only to have our rookie cops/wedding crashers waiting to arrest them.
Before heading out for the day, Andy has a second chat with Sergeant Boyko on Traci's behalf. She then apologizes to Callaghan for taking off on him. At the bar, the gang finally gets to meet Denise. They now know why Chris has always been a one woman man, as Denise is drop dead gorgeous. Jerry tells single mom Traci that he likes kids. That's good to know. It's also good to know that Traci still has a job thanks in part to Andy. It's like Sam said-You stand behind your partner always.