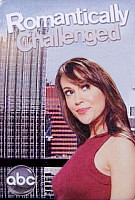 TV Info
---
Episode Premiere
April 19, 2010

Distributor
ABC

Genre
Comedy

Show Period
2010 - 2010

Production Company
Warner Bros. Television, Bonanza Productions Inc.


Cast and Crew
---
Director
James Burrows
Screenwriter
Ricky Blitt
Main Cast
Additional Cast
Israel Broussard
Mark Deklin
Valorie Hubbard
Nicole Pettis
Synopsis
---
Rebecca Thomas (Alyssa Milano) has only been divorced for five months and her ex-hubby is already getting remarried. That's okay because Rebecca doesn't know about it. Little sister Lisa (Kelly Stables), longtime guy pal Perry (Kyle Bornheimer) and his struggling writer roomie Shawn (Josh Lawson) all agree that she must never know. Unfortunately, these three co-conspirators can't keep quiet. The secret is spilled.
A slightly shaken Rebecca says, "He went out and met someone and all I do every day is work and be a mom." She wonders how she's ever going to meet someone. Well, as luck would have it, someone is looking to meet her. From across a crowded coffee shop, Rebecca locks eyes with a handsome stranger named Doug, who asks her out. It looks like Rebecca is about to get back in the dating game.
Shawn reluctantly accompanies Perry to a cooking class. As the class learns how to make Frushi (a mix of fruit and sushi), a woman named Marika flirts with Perry. He wonders if she's type of girl who will let him give her foot rubs as they watch Anderson Cooper all night. There's only one way to find out. Looks like Rebecca isn't the only one going out on a date!
Rebecca reminds Shawn that he promised to help her son Justin (Israel Broussard) with his creative writing class. Shawn says, "Oh, I kinda thought we were both joking." Once Rebecca leaves, Shawn gives the kid one of his stories to turn in as his homework. The deception works flawlessly. Justin gets his best grade of the semester, a B-minus. Shawn freaks when he discovers the teacher thinks his work is less than Grade-A material.
A freaked out Shawn gives Justin another story to turn in to his teacher. This time he gets a much better grade of a B. Of course, that's not good enough for Shawn. He marches into the teacher's office and demands to know why the paper didn't get an A. The teacher found it to be a little trite. Shawn says, "Your face is trite." He breaks the teacher's pencil and storms out of the office.
As Rebecca is prepping for her date, Lisa and Shawn give her a little advice: Lie. They don't necessarily want her to hide the fact that she's a mom, they just want her to say her 15-year-old son is seven. And Lisa says, "When talking to a high-powered female lawyer, some men's units tend to shrivel up." So fibbing about her job may also be something to consider.
Over dinner, Doug tells Rebecca that he has a seven-year-old. She says that her boy is seven, too. Of course, the picture she produces looks a lot like a teenager. Rebecca says that isn't a photo of her son. It's a shot of her ex. Rebecca has basically told this guy that she's divorced from her son. She also told him that she washes dogs for a living. After Doug asks her out on another date, her friends now tell her that she should come clean this time.
Perry has a great date with Marika. They have so much in common. Both of these crazy kids love bunnies and have seen every episode of Iron Chef. Perry feels very comfortable around this girl. Marika feels the same, which is probably why asks Perry to tell her she's a bad girl and spank her. Love it!
In an effort to get over his fear of doing nasty things to Marika, Perry asks Lisa for help. She offers her backside up for slapping practice, but Perry's still having issues. The only way he'll be able to spank his new lady is if he's thinking about someone he hates. Fortunately, Perry despises Darth Vader. So when things start getting steamy with Marika, Perry gives Lisa a call so that she can breathe heavy into the phone. This gives him the motivation he needs to spank like a Jedi. Yes, the Force is with him.
Rebecca tells Doug that she lied about her job, but doesn't fess up about her son. Doug figures it out when Justin pops by and calls Rebecca mom. The date is officially over. Perry realizes he has to end things with Marika, as well. Every time he's with her, he feels like turning himself into the cops. Both romances were doomed from the start. But in Rebecca's case, at least she got herself back out there thanks to a little help from her friends.