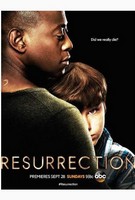 TV Info
---
Episode Premiere
September 28, 2014

Distributor
ABC

Genre
Drama

Show Period
2014 - 2015

Production Company
ABC Studios


Cast and Crew
---
Director
Christopher Misiano
Screenwriter
Aaron Zelman
Main Cast
Omar Epps as Martin Bellamy
Matt Craven
Devin Kelley
Frances Fisher as Lucille Langston / Lucille Garland
Kurtwood Smith
Sam Hazeldine
Samaire Armstrong
Nicholas Gonzalez as Deputy Connor Cuesta
Mark Hildreth
Landon Gimenez
Additional Cast
Michelle Fairley
Kathleen Munroe
Jwaundace Candece
Nadej Bailey
Synopsis
---
Marty awakens alone and abandoned in a field on the outskirts of Arcadia. Flashbacks show that Jacob was forcibly taken from him. He races to the Langston house. Marty is shocked to see that Jacob is there safe and sound. He tells Henry and Lucille that he was drugged in an interrogation room. An elegant-looking woman was there. As for Jacob, soldiers brought Jacob back home but they took others. Marty realizes that he's been gone for a full week with no recollection of where he's been.
Marty clutches his chest after feeling a sharp pain, but quickly recovers. He fills in Maggie on what's happened. A checkup shows there's nothing wrong with his heart. Maggie offers to let Marty crash on her couch. They chat about how the people who are coming back should be a good thing. Instead, it's just made them scared. Marty recalls a story that taught him a lesson about faith. He learned that without fear, there are no limits.
Jacob visits the cemetery in the middle of the night. Someone is there. It's his grandmother, Margaret Langston (guest star Michelle Fairley). Henry is shocked and overjoyed to see his mother. Margaret learns that her other son, Fred, thinks the people who have returned are dangerous. The sheriff is persona non grata in Arcadia. Maggie isn't talking to him either. While intoxicated, Fred picks a fight with Marty. It doesn't end well for him. He refuses to believe that the latest person to return is really his mother.
Jacob lets his grandmother know that he can feel when people are returning. Margaret advises him to not make that public knowledge. Henry lets his mother know that Fred doesn't hate her. He was there every day in the hospital when she was in a coma. Margaret visits Fred just as he's considering taking his own life. She slaps his face twice demanding that he acknowledge who she is. He does. Margaret takes away his gun. She assures Fred that everything is going to be okay now that mama is here.
Rachael learns that the baby she's carrying is a boy and she's four months into the pregnancy. She's staying at Tom's place, in the guest room, of course. In other news, Marty heads off to Chicago when Toni contacts him. He recognizes the elegant woman he saw during his time in the interrogation room, so he takes off. He later confronts Toni as to why she set him up. There's a story going around that Marty has become unstable and everything that happened in Arcadia was a hoax.
Marty is looking to get out of town when the elegant woman shows up in his apartment. He wants to know where she took those who returned. He doesn't get an answer. The woman wants Marty to return to Arcadia to serve as a spy. He should consider it a reassignment. The woman realizes that Marty doesn't know something. Flashbacks reveal that he was shot in that interrogation room during a struggle. This explains the pain in his chest. Marty soon realizes that he was dead.