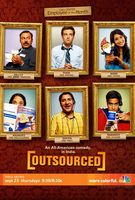 TV Info
---
Episode Premiere
February 17, 2011

Distributor
NBC

Genre
Comedy

Show Period
2010 - 2011

Production Company
Universal Media Studios


Cast and Crew
---
Director
Matt Shakman
Screenwriter
Terry Mulroy
Main Cast
Synopsis
---
It's morning; Todd and Tonya are in bed at Todd's boarding house. Tonya tells Todd that her mother is in town. She wants to introduce Todd because, unlike her previous boyfriends, he's a nice guy and she knows he'll make a great impression. Todd then gets a video chat from his boss, Jerry. Apparently, Jerry's decided to make a surprise visit to India and will be at the office in an hour.
One of Charlie's employees has filed a complaint against him for being insensitive towards Indian culture. Apparently, Charlie used a statue of the Indian god Ganesh as a backscratcher, and then broke off two of its arms. Charlie has a video chat appointment with human resources back in the states, and is especially nervous because the head of HR is Indian. Gupta agrees to help Charlie out by giving him a crash course on Indian culture.
Todd is prepping his workers for Jerry's arrival. He tells them that Jerry is a traditional guy, all business, and they should act accordingly. Then Jerry strolls in, wearing a relaxed tourist get-up with a bottle of tequila in hand. Clearly, this is not what Todd was expecting. Todd reveals their schedule for the day, all business, at which Jerry shows complete disinterest. He explains to Todd that he's here to bond with the employees and drink, not sit around all day. He decides to takes out half of the office for a good time on the company credit card.
Todd and the employees are at a bar with a very inebriated Jerry, who continues to throw back shots. Todd gets a call from Tonya; they had dinner plans and she's been waiting at the restaurant with her mother for over an hour. He says that he can't leave, Jerry's his boss after all, but reassures her that Jerry will pass out soon. His prediction is wrong; Jerry parties all night long and Todd misses dinner completely. Later, when Todd and Rajiv are finally dragging Jerry home, Jerry comes across a cow and tries to tip it, which results in the three getting arrested.
Later, in jail, Jerry reveals the reason for the bender: his wife has left him because he slept with a prostitute. Rajiv reprimands him, explaining that marriage is a commitment. He argues that if Jerry were a real man, he would fight for his woman. Jerry is clearly moved, and calls his wife to apologize. Later, Tonya and her mother bail the three out of jail. Todd tries to salvage the situation but it's too late, his "good guy" appearance is a bust.
Gupta uses flashcards to quiz Charlie on famous Indian symbols, and his education appears to be coming along quite well. Later, when Charlie video chats with the HR rep, she says she's impressed with how immersed he's become in Indian culture. She tells him that the company was planning on moving him back to Montana for a corporate position, but she now sees that his presence in India is too valuable. Charlie, an all-American through and through, is heartbroken at losing out on an opportunity to go back to the states. Gupta comforts him, reminding him about their discussion on reincarnation; he's not stuck anywhere, he just is.
The next day, Jerry comes in to the office to thank Todd and the workers for their support the previous day. He also promotes Todd to executive manager. Though there's no pay raise or extra benefits, it allows him to give Rajiv the title of manager so that he can marry Vimi. Rajiv is ecstatic, and immediately whips out all of the pre-printed "manager" novelties he had prepared for his desk.