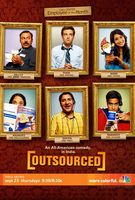 TV Info
---
Episode Premiere
January 27, 2011

Distributor
NBC

Genre
Comedy

Show Period
2010 - 2011

Production Company
Universal Media Studios


Cast and Crew
---
Director
Victor Nelli, Jr.
Screenwriter
Luvh Rakhe
Main Cast
Synopsis
---
The call center gang is playing with the latest shipment of novelties from the home office. Asha questions whether the world really needs another fart machine. Todd explains this is no ordinary fart machine, it's the Windbreaker Extreme, a remote-controlled device good for hours of fun. He demonstrates it for the team, using an unsuspecting Rajiv. The team laughs out loud as Todd makes it appear that Rajiv is passing gas with every gesture. Asha is still skeptical, but then can't help but laugh - and accidentally pass a little gas herself.
Tonya asks Todd when he's going to reveal their relationship to Charlie. Todd's torn. He knows telling Charlie would hurt his feelings, since Charlie's attracted to Tonya himself. But pressured by his girl, Todd commits to telling Charlie soon.
Jerry phones the call center and tells Rajiv that employee evaluations are due. But these evaluations are to be completed by the employees about Rajiv. Rajiv has never heard of this strange American HR custom. He's worried that his dictatorial style may get him poor marks from his team. He starts the process of buttering them up.
Todd tries to break the news to Charlie over lunch, but it's just too difficult. Charlie sees himself married to Tonya with Todd as his best man. Todd consults with Manmeet, who urges him to come clean.
Todd drops in on Charlie at his office at All-American Hunter. Charlie's upset; he's followed Tonya and found that she has a boyfriend. Todd's chagrined that Charlie found out before he could tell him. But as Charlie shows him surveillance photos, he realizes that Tonya is actually seeing someone else. He's mortified. Charlie reveals to Todd where Tonya and her new beau will be dining tonight.
Rajiv's wooing of the staff continues. He's telling jokes, sitting with them at lunch, even bringing pastries to the office in an attempt to get good evaluations from them.
Todd and Manmeet head to the restaurant where Tonya is on her date. Spying Tonya with another man, Todd walks over to confront her at her table. He accuses her of cheating on him. She explains this is the first time she's been out with this guy - and then scolds Todd for never even asking her out. She complains that he won't even tell others about the two of them. You just want me for sex, she tells him. Todd realizes he's in the wrong and changes his tune. He tells Tonya that as of tomorrow morning he's going to make her Facebook official. Charlie, at the bar with a sound amplifier, has overheard it all. He bolts from the room, crying.
Rajiv turns on the charm even more, imploring Madhuri to help sway the others. At her urging, he starts lobbying each team member individually, telling stories and promising favors. The effort seems to be paying off.
Todd takes Charlie out for some beers and lets his friend blow off steam and animosity. Todd explains to Charlie that he resisted telling him for so long in order to protect his feelings. Charlie's angry, but then accepts what he can't change. Their friendship will survive.
Jerry calls Rajiv to give him the results of the employee evaluation. They like him. Rajiv is ecstatic - until Jerry lets him know that's unacceptable. Employees should respect and fear their boss. "You need to show some backbone and stop trying to be their friend," Jerry tells Rajiv. Taking the advice immediately to heart, Rajiv storms out to start berating his employees in that old familiar way.