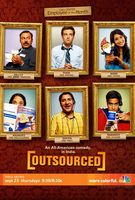 TV Info
---
Episode Premiere
November 11, 2010

Distributor
NBC

Genre
Comedy

Show Period
2010 - 2011

Production Company
Universal Media Studios


Cast and Crew
---
Director
Linda Mendoza
Screenwriter
Vera Santamaria
Main Cast
Synopsis
---
Todd walks the streets of Mumbai, amazed at colorful Diwali plays everywhere. He sees a resplendent Manmeet who explains it's the biggest holiday of the year, celebrating the triumph of good over evil in an elaborate series of festivals. Meanwhile, Rajiv is haggling with a street-side sari vendor. Diwali is also a celebration of gift-giving and he's driving a hard bargain to get his beloved Vimi a beautiful garment. Todd and Madhuri look on in shock and respect at his negotiating skills.
The office staff is bedecked in their Diwali best. Madhuri gives Todd a present: some fresh homemade barfi, a sort of cake. Office workers are decorating, including the hanging of an ancient Hindu symbol: the swastika. Todd is appalled. But Rajiv explains it's an ancient Sanskrit design designating good luck. Todd's enlightened, but still doesn't want it above his desk.
The call center team is excited by the prospect of the holiday. Asha will be having dinner with her potential future husband's family for the first time. But Todd's caught off guard and explains that it's not a holiday in America. The calls must still get answered.
Todd takes counsel of Charlie, who explains he's giving his employees time off. Charlie loves the holiday, since it's filled with fireworks and explosions and gives him a chance to shoot his pistol into the air. In the canteen, Tonya stops by and invites Todd to a "piss-up" - Australian slang for an occasion to have a few beers with friends. Todd declines, explaining that he needs to work tonight.
As the town celebrates outside the office, a glum looking call center team goes about their business. Todd feels guilty and calls his stateside boss Jerry for permission to give his team the time off. Jerry, who's at a counseling session with his wife, is firm: the call center stays open. Todd makes an executive decision: he'll give the team the night off and answer the phones himself.
The team is ecstatic and thankful. Rajiv rushes out, hurrying to deliver the new sari he has bought for his Vimi. But a passerby drops a sparkler in his shopping bag, ruining the sari. He rushes to buy another, but the vendor's shop is closed. He's forced to make a deal with Madhuri to buy her sari from her. She plays Rajiv perfectly, exacting an exorbitant price.
Todd tries to handle all the calls himself; it's an endless lesson in frustration. Finally, Tonya stops by to entice him to come out drinking with him. Put the calls into voice mail, she tells him. Todd, a loyal soldier of Mid-America Novelties, can't quite bring himself to do it. But Tonya proves irresistible.
They tumble into the breakroom for some torrid sex. As they're undressing each other, the office lights suddenly flip on. It's Asha. She's cancelled her dinner to come back to work to help Todd out. Embarrassed and shocked, Asha walks out. Todd and Tonya pick up where they left off.
The next day, Todd tells Manmeet of his hookup with Tonya. Of course he wants details, but Todd's discreet. In the breakroom he encounters Asha, who treats him with some disappointment. Todd tries to defend himself, but it's clear their values couldn't be more different.
Todd heads to the canteen to catch up with Charlie, who's been deafened by all the Diwali shooting and celebrating he's partaken of. He excuses himself to get some ice and Tonya stops by, all flirtatious and coy. Todd treats her warmly but doesn't want Charlie to see them getting too cozy; Charlie's crush on Tonya is as strong as ever. Discretely, Todd and Tonya continue their affair, trysting in all sorts of settings.
Back at work, Rajiv has some news for Todd: he's caught him and Tonya on the security cameras. He demands Todd's resignation and $20,000 in payment to keep quiet. Todd explains that he's really done nothing wrong - and that Rajiv has now incriminated himself by trying to blackmail the boss. He shrinks away, defeated.
Later, Rajiv shows Todd some more security footage. It's Gupta, surreptitiously licking a muffing from a stack in the breakroom - and then putting it back in place, just before Todd comes by to grab one and eat it. Yechh!