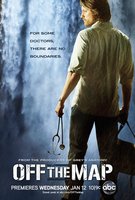 TV Info
---
Episode Premiere
February 23, 2011

Distributor
ABC

Genre
Drama

Show Period
2011 - 2011

Production Company
Shondaland Productions, ABC Studios


Cast and Crew
---
Director
Randy Zisk
Screenwriter
Jeannine Renshaw
Main Cast
Additional Cast
Synopsis
---
A rescue chopper has crashed somewhere deep in the jungle. The clinic team heads out to help, but Lily is nowhere to be found. That's because she's busy enjoying a waterfall shower with Mateo. Can't wait to see what they do for their second date. In the meantime, they make their way to the accident scene. One of the two little girls is missing and the pilot, Guillermo, has a chopper blade puncturing his gut. A fuel leaks sparks an explosion as Ben, Tommy and Otis carry Guillermo to safety through the flames.
Ryan sets out on a desperate search for the missing little girl. Elsewhere, appendix patient, Julio, is stabilized once they get him back to the clinic. The love of his life, Lynn, isn't so lucky. She collapses in Mina's arms saying she's unable to feel her legs. They need to operate to repair a severe spinal cord injury.
Ryan is having shortness of breath to accompany a crisis of faith as she makes her way through the rough terrain. She believes there may be some master plan at play, however, when she takes a tumble in the jungle to land right alongside the missing little girl. But Ryan's weak heart makes for a rough trip back to safety. They make it back to the clinic, but the little girl's mother is traumatized by all that has happened. She refuses to let Ryan treat her daughter any longer.
Otis has been on edge all day. It could have something to do with the heroin he's hiding in his pocket. Nevertheless, he's Mina's best option if there's any chance of pulling Lynn through her spinal cord surgery. When things get shaky for Otis, he tricks Mina into doing a procedure he can't complete.
Lynn pulls through the surgery, but blood is building under her skull. Mina and Lily must use an old drill to relieve the pressure. The procedure works for the moment, but Julio doesn't believe Lynn is going to get better. Mina refuses to accept that, but it turns out to be the truth. A short time later, Lynn is gone.
Tommy's a little tired of Charlie hanging around him 24/7. He orders the kid to get the burn he got on his arm during the chopper explosion treated and then sends him home. Tommy feels like a heel when Ben tells him Charlie's family ditched him a few years back. He was a pretty bummed out little guy until Tommy arrived.
Tommy has to put all thoughts of Charlie on hold as he assists Ben and Otis in surgery. Guillermo the pilot still has that chopper blade sticking out of his belly. The docs have to work fast when their patient starts to bleed out. But Cole can't come through when it's time to pull the rotor out Guillermo's body. Tommy realizes the only person who can help is Charlie.
With ice water in his veins, Charlie yanks the blade from the patient's body. Tommy says, "Congratulations, you just rocked your first surgery." Guillermo pulls through the procedure, but he may never fly again. His partner, Armondo, refuses to believe this will be the case. He'll do whatever it takes, for however long it takes, to get his friend flying again.
Otis plops the heroin he's been clutching all day onto Ben's desk. He never used the stuff, but he wanted to. That's why he was shaking so much. Ben offers Otis some old fashioned candy sticks in lieu of the drugs. Unfortunately, the flavor he picked up is grape. It's the worst kind. It turns your mouth purple. But at least it provides a natural high.
At the end of a long day, Ryan gives the little girl's mom the pills she needs to survive the illness that afflicts her as well. Tommy has a heart-to-heart chat with Charlie and learns the kid has a sweet job condo-sitting for timeshare owners. Ryan also chats with Ben about her condition. His initial diagnosis is that she is in heart failure. As for Lily, she's shocked to see that the backyard of Mateo's home is a giant cocaine field. Now we're wondering if she still wants a second date with this guy.