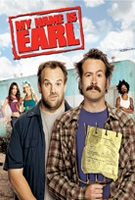 TV Info
---
Episode Premiere
October 02, 2008

Distributor
NBC

Genre
Comedy

Show Period
2005 - 2009

Production Company
Amigos de Garcia Prod., Fox TV


Cast and Crew
---
Director
Chris Koch
Screenwriter
John Hoberg, Kat Likkel
Main Cast
Additional Cast
Brian Norris
Jerry Van Dyke
John Amos
Synopsis
---
Earl and Randy are walking down the street arguing about robot hands, when Randy spies a hat at a bus stop. Whenever Randy finds a new hat, not only does he risk getting lice, but it brings out a new and often unwelcome part of his personality. Earl hopes this time it will be different, but Randy starts acting strangely suave.
Joy runs into the Crab Shack. She's spotted Pigsquatch, a giant pig who lives in the woods that no sober person has ever seen. Joy decides she's going to capture Piqsquatch, because surely tourists will pay a fortune to see him.
Joy asks Earl if he remembers their RV trip. He sure does, since it's #47 on his list. One day when the kids were mistakenly detained by child services, Randy, Joy and Earl decided to go on vacation, so they stole Jerry's RV. Sadly, it wasn't long before Randy forgot to turn off the stove, and the RV exploded. Earl decides it's high time to make the loss up to Jerry.
Earl and Randy find Jerry depressed, sitting motionless and waiting to die. Earl's efforts to cheer up Jerry are in vain, until he discovers Jerry's love for jug music. Earl brings Jerry a new jug, prompting him to admit that what he misses most about his trailer are the mementos it contained, especially photos of his late wife. Earl gets an idea of how to get some loving wifely arms around Jerry...
When Earl reaches the trailer, he's amazed to find that Joy has caught Pigsquatch. Even though Joy still uses her Real Doll to babysit the boys on date night, she lets Earl take it, because she has a bigger pig to fry - Pigsquatch is dead. When the County refuses to pick up Piqsquatch, and no one responds to Darnell's ad for 800 pounds of free pork, Joy has a real problem on her hands.
Earl and Randy give the Real Doll a makeover, so she's a Real Old Doll, and present her to Jerry, who's delighted. As Jerry comes back to life, Earl brings him more stuff, including an exact replica of Jerry's Special Forces uniform. Almost back to normal, Jerry tells Earl he only needs one more thing, a pendant. There's only one more just like it in the world, and his old army buddy Joe has it.
Earl locates Joe and drives Jerry to his house. Grateful, Jerry thanks Earl, and then declares his intention to cut Joe's ear off. During the Korean War, Joe abandoned a wounded Jerry behind enemy lines. Jerry tried to make Joe stay, but only succeeded in cutting off one of his ears. During Jerry's long years in a POW camp, the ear was his only company. After the war, he turned the ear, now his best friend, into a pendant and hung it on the rear view mirror of his RV.
When Jerry overpowers Earl, Earl runs to warn Joe, who pulls Earl and Randy into his house and explains that Earl has brought a killing machine back to life. Joe pulls a rifle out of his ample gun case and prepares for war. Earl wants to negotiate, so Joe puts Randy's hat on his rifle and sticks it out the door. With a thwack, Jerry shoots it back into the house with an arrow.
When Joe accidentally pulls a pin out of a grenade, Randy starts whining that his hat is ruined. Joe hands Earl the grenade, and Earl starts arguing with Randy. He hates Randy's hats, they make him look stupid. Joe suddenly realizes that he deserted his best buddy 50 years ago, as Jerry starts shooting on the roof. Joe shoots back. Spying a corpse on the lawn, everyone leaves the house to investigate, but it's only the Real Old Doll.
Back in the house, Jerry drops from the ceiling onto Joe to do battle. Suddenly, the two old friends are both having heart attacks. Joe only has one pill left, and he gives it to Jerry, saving his life. As the ambulance carts Joe to the hospital, Jerry forgives him, and Earl concludes that sometimes losing your temper can be a good thing.
Earl apologizes for yelling at Randy about his hat, but Randy is just thankful that Earl told him he acted differently while wearing hats; he'll never do it again. Reunited, Joe and Jerry prepare to blow up and dispose of Pigsquatch once and for all. Sometimes, the best thing is to have a big blow up...