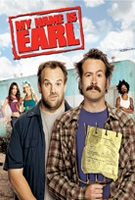 TV Info
---
Episode Premiere
October 02, 2008

Distributor
NBC

Genre
Comedy

Show Period
2005 - 2009

Production Company
Amigos de Garcia Prod., Fox TV


Cast and Crew
---
Director
Michael Fresco
Screenwriter
Jessica Goldstein, Chrissy Pietrosh
Main Cast
Additional Cast
Suzy Nakamura
Brandon Soo Hoo
Synopsis
---
Gas prices are so high that Earl tries not to drive too much, but it's hard to say no to Catalina. He's delighted to spy a used hot tub on the side of the road. Back in 2001, an unfortunate accident caused Joy to miss her spokesmodel gig at Barbatubacom, when she was slated to get paid with a hot tub of her very own. Earl quickly buys off Homeless Joe, who's been living in the hot tub, with a stick of deodorant.
Joy is so thrilled with her new hot tub that she sits in it all night long, until Darnell notices that her big toe has become enormous. The doctor informs that it's a flesh-eating staph infection. The only other case she's ever seen in Camden? The homeless guy that lives in the hot tub.
Furious, Joy confronts Earl with her toe at the Crab Shack, demanding that he pay for all her medical bills. Having spent time working on bioweaponry, Darnell takes Joy's infection very seriously. He takes to sleeping in a sleeping bag, boiling his clothes, and ultimately encasing Joy in a plastic bubble in her own own trailer.
Earl feels terrible, and offers to make it up to Joy. Claiming Earl's not the only one who can make a list, Joy presents him with a long list of everything she does in a week. If he wants to help, he's gotta be her until she's infection-free.
It turns out that Joy's a very busy woman. Every week she buys mystery meat out of the trunk of some guy's car, spends four hours at the salon to catch up on local gossip, and heckles the local ice cream man.
Earl also learns a lot about Joy's family. Darnell is plagued by headaches, and the boys have no friends. Earl consults Randy - what did he do that year in junior high when he had no friends? Not only did their mom buy Randy some deodorant, but Randy had a close relationship with an imaginary friend named Bill.
When Earl picks up the boys at school, he notices mom Phyllis handing out invites to her son Dennis' birthday party. Phyllis informs Earl that the boys aren't the problem, Joy is. Over the years, Joy's bad behavior has caused the other moms to steer their kids away from her kids. Phyllis agrees to invite Earl Jr. and Dodge to Dennis' party, as long as Earl doesn't tell Joy about what she said.
Back at the trailer, Earl tells Joy that the boys are at Dennis' birthday party. Joy fears that they are being punk'd, and insists that Earl go pick them up. When he confesses that Joy's behavior is the reason her sons don't have friends, Joy goes wild. After punching Earl in the face, she busts out of her plastic bubble, steals his car and races for the party.
Joy runs the car over Dennis' birthday presents, then grabs a knife and stabs the inflatable ball bit. Within seconds, she forces Phyllis to suck on her big toe. Earl runs wildly up to the party, but it's all been Joy's fantasy, as she sits quietly in the car in the parking lot.
Earl tentatvely climbs into the car with Joy. She doesn't care what people think about her, but she doesn't want their opinions to victimize her children. After all, there's lots of times when her big personality is good for the kids. She asks Earl if he thinks she's a good mom. According to Earl, if Joy wasn't a good mom, she wouldn't be sitting in the car, letting her kids enjoy the party.